01 / Choose from a variety of positions across the country
Work Where You Want
Looking for work in the Acute Care industry? We offer travel contracts with some of the largest hospitals in the country. For Long-Term Care, we work with our growing network of facilities to place in over 36 states. We currently have over 6,000 travel, temp-to-perm, and permanent placement contracts available across the country!
Our travel contracts include 4-week to 13-week assignments that guarantee 36 to 40 hours per week, weekly travel stipend pay, holiday pay and overtime. So, whether you love to travel or you're simply looking to relocate, with Gale, you can choose the city, facility and schedule that's right for you — with the pay you deserve.
02 / The perfect travel companion
We're With You Every Step of the Way
Once you move to a new city, you're not alone. You'll have a dedicated team of Clinician Advocates that are familiar with the location and organization where you'll be working. Whether you have an inquiry about your specific travel contract or using the Gale App, our team is there for you.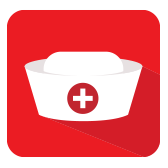 24/7 Support with Gale
Available whenever you need us.
Gale provides 24/7 customer support and we're here to ensure your experience with our technology and team is successful.
Real Stories. Remarkable Results.
Our staffing solutions make a difference because we design them with the needs of nurses and facility managers in mind. We're excited to share what others are saying about their experiences with Gale.